Centerstage Productions is an experienced, professional Los Angeles & Orange County Wedding DJ & Karaoke DJ. We specialize in elegant but fun Weddings, Beach Weddings, as well as Corporate Events, Karaoke, Family Events, Anniversaries, Reunions, Birthdays, Bars & Nightclubs, Stage & Lighting, Concerts, Festivals, Beach & Mountain Weddings, and many, many others. Our goal has always been to provide Quality Entertainment.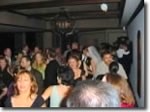 Serving All of Southern California including Los Angeles, Orange County, Pasadena, Arcadia, Monrovia, El Monte, Newport Beach & Beach Communities
Party! Party! Party! It's time for a celebration and you're looking for an excellent DJ and an affordable price! Whether it's a tasteful but fun Wedding Reception, Beach Wedding, Mountain Wedding, anniversary, birthday party, Corporate Event, Karaoke, Bar Mitzvah, Bat Mitzvah - whatever it may be - a professional is a must!
We specialize in elegant, fun and unique events. A successful event is about balance - knowing when to speed things up, slow them down; when to raise the volume, when to keep it low. Experience counts, especially when your entertainer only has one chance to get it right. We have been invited back to many elegant venues, such as The Beverly Hills Hotel, Calamigos Ranch, beach-side resorts, the Malibu West Swim Club, The Pacific Club, the Los Angeles County Arboretum the San Dimas Wedding Center - just to name a few. Click here to listen to what a recent client had to say.
626 • 205 • 4033
Since 1984 we have been providing quality entertainment to all of Southern California. In fact, our past clients say that there is nothing average about us, yet we remain humble as we serve our clients needs and fulfill their dreams. We have performed at thousands of events and our services include Weddings, Beach & Mountain Weddings, Newport Beach Weddings, Birthdays, Anniversaries, Reunions, Bar Mitzvah's& Bat Mitzvah's, Young Adult Parties, Corporate Events, Family Parties and Office Picnics, Christmas parties and New Years Eve, trade shows, Karaoke, casino nights, plus complete stage & lighting.
We are so proud of our many accomplishments that our services are 100% guaranteed. We cover all of Los Angeles and Orange County from Ventura south to San Diego -- all for the same reasonable price. Our music libraries are also great and contain classics dating back to the 1930's all the way up through what's hot right now! Top 40, Country, Latin, Salsa, Hip-Hop, Reggae, Rock, Swing, Big Band -- thousands of usable songs! By subscribing to the same services as radio stations, we always stay current with new music - but only the clean "radio edits." Having this kind of flexibility is very important at a wedding, corporate event or family affair since your guests may vary in age considerably. With varying styles of DJ's we can simply play background music, or get out on the floor with your guests. We are also happy to play your special requests.All About The Home - Home decorations furnishings